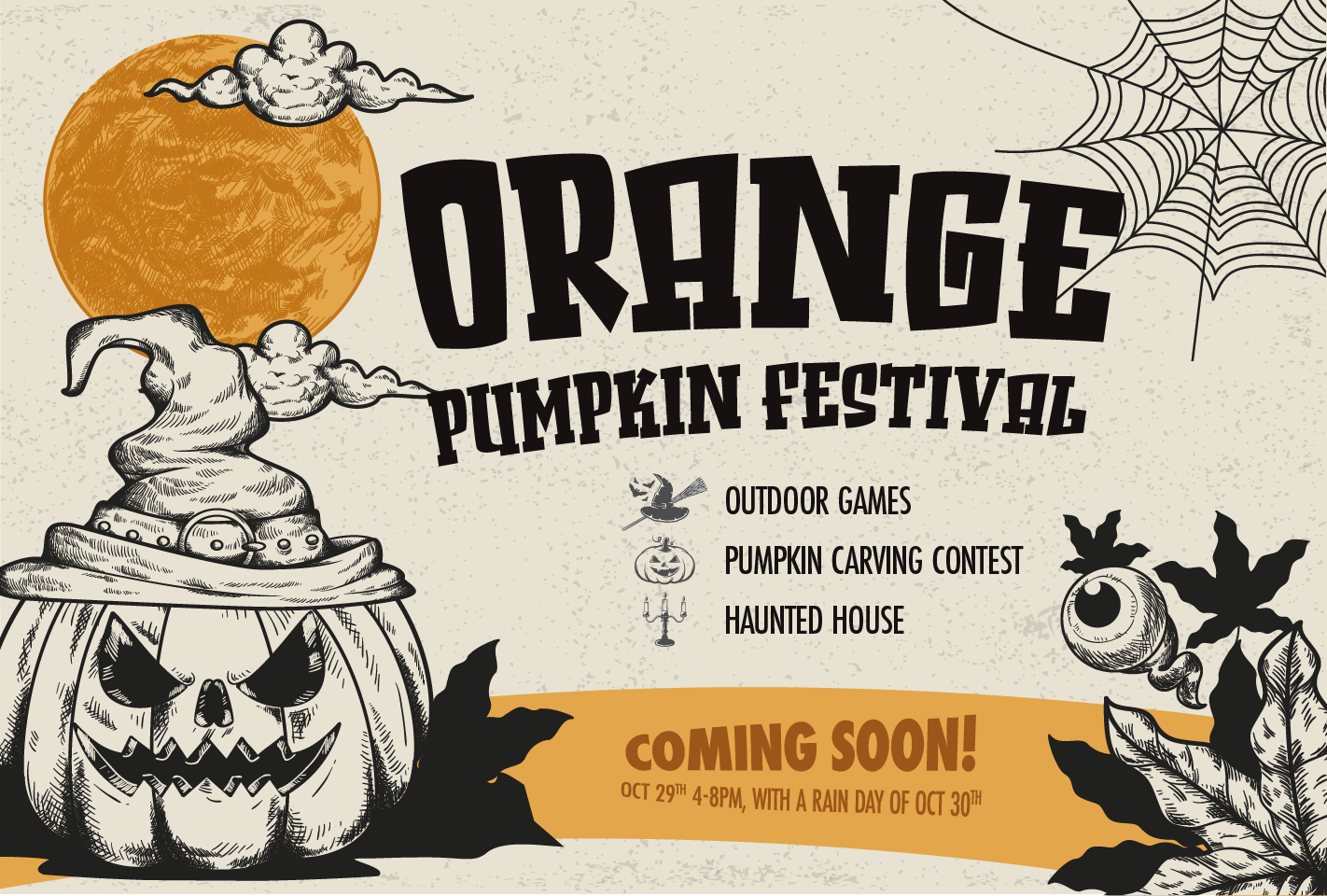 Mark your calendar for a family friendly fall event! There will be carnival style games and a pumpkin carving contest run by local businesses, food vendors and local craft vendors on the mansion grounds, with a haunted house inside the mansion.
Entry to the event is free, and the same goes for the Pumpkin Carving Contest. There is a small cost to participate in the games and for the Haunted House (as per below). A portion of the proceeds go to Orange Merchants Group for community improvements and organizing future town events. 
Participating in Games
Games Tickets are $1 each with most games are between 1 to 2 tickets.
The following games will be set up behind the carriage house:
"The Witches Kitchen" – Place your hand into the witch cauldron and get a prize bag.
"Werewolf Races' – Mini toy dogs will race down a track.
"Monster Knock Down" Toss the bean bags and knock down the cans.
"Football Toss" Three tries at throwing the football through the ring.
"Spin the Wheeler Mansion" Spin a wheel, win the prize
"Ring Toss" Toss 3 rings onto the witches hat
"Frisbee Toss" Toss 3 Frisbees into the net
"Jack O Lantern Toss" Toss balls into jack o lanterns
"Goldfish Bowl Toss" Toss ping pong balls into Fish Bowls
"Disk Drop" Drop the disc down a peg board and win the prize
"Wheel of Chocolate" Spin the wheel, win the chocolate.
Haunted House
The Haunted House Tickets are $5 each.
This will be a guided tour in groups of 6 through the ground floor of the mansion. This will not have jump scares and no one will be touching you or grabbing you so it will be appropriate for all ages but it will be scary.
Pumpkin Carving Contest
Free to enter with prizes for the winners
Upon entering, you will be given a coupon to drop in to vote on your favorite pumpkin after 5pm.
The winners will get to choose their prize when we count tickets the following day. All submissions must be received by 5pm when we will open the pumpkin walk.
T-shirts for the Orange Pumpkin Festival will be on sale in various colors during the event so make sure to grab one! 
Should there be any left over from the event, they will be placed on sale online so keep an eye out too.
Parking available at the Athol Credit Union parking lot and town municipal lots/designated downtown parking spaces.
Some participating local businesses include: